City of London, St. Julians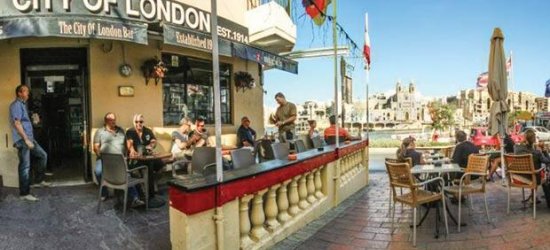 Nice bar in Balluta Bay with a beer price of EUR 1.50 for a pint of Skol or Bavaria. If you were to believe the very outdated Lonely Planet entry about the bar, "It's popular on the gay scene, but everyone is welcome; there's a nicely mixed crowd of expats, locals and students." Whether you're gay or not, worry you shall not, no one has touched my ass there, unfortunately not even ladies.
But in all seriousness, well, as much seriousness as a drunken hobbit can have, it's a great bar and you won't find many people who says otherwise.
Cafeterias/bars nearby include Dubliner, Saddles.